The Institute for Software Engineering and Software Technology of the University of Malaga Joins ERCIM 
The Institute of Software Engineering and Technology (ITIS, or ITIS Software) is a unit of the University of Malaga dedicated to scientific and technical research [L1]. The main objective of ITIS is to contribute to the development and application of software technologies through research, innovation, training, and technology transfer. Due to the transversal characteristics of software, the Institute is an interdisciplinary center in which specialists in different technological areas and application domains work together to advance these technologies. ITIS is oriented towards the foundations, tools, and applications of Software Technologies and Software Engineering for industry and society, with a special focus on five main areas: Automated Software Engineering, Data Science and Engineering and Artificial Intelligence, Cybersecurity, Smart Networks and Services, and Applications of Software Technologies and Software Engineering. The working language at the Institute is English.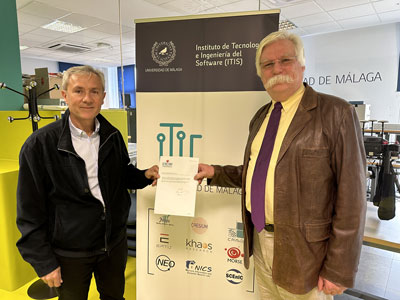 Pedro Merino, Director of ITIS (left) and Bjoern Levin, RISE, President of ERCIM.