The FNR becomes ERCIM's Luxembourg Member
by Raymond Bausch
---
FNR, the Luxembourg National Research Fund, (Fonds National de la Recherche) joined ERCIM in July 2002.
The National Research Fund is a public establishment with scientific, financial and administrative autonomy, set up by the Law of 31 May 1999 in order to further stimulate research activities in Luxembourg. To fulfil this mission, the Fund develops multi-year research programs and assures their implementation by allocation of the financial means put at its disposal.
Five national multi-year priority programs are currently ongoing, among them 'Security and efficiency of new practices in e-commerce for all socio-economic actors (SE-COM)', which has a budget of 7 500 000 Euro for five years. In addition, the National Research Fund subsidises accompanying measures to strengthen the general framework of scientific research in Luxembourg, eg subsidising the organisation of scientific conferences and the mobility of researchers.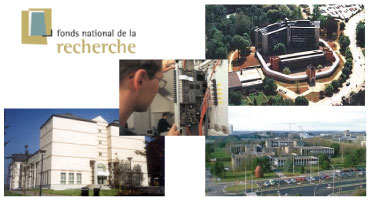 In ERCIM, the National Research Fund represents researchers in Luxembourg working in informatics and mathematics at the following institutions:
The CRP-Santé is a public research centre in Luxembourg whose main research and development activities lie in the fields of public health, health care, and biomedicine ('CRP' stands for Centre de Recherche Public). The CRP-Santé aims to promote scientific progress, technology transfer and innovation within the framework of international and European research and development programs.
The CRP-Gabriel Lippmann is one of Luxembourg's leading players in the fields of scientific research and technology transfer. The centre focuses its activities on some of the most crucial topics of interest of the 21st century, including nanotechnology, novel materials, sustainable management of natural resources, biotechnology, and last but not least technologies of the information society and their relevant legal frameworks. As a public research centre, it makes a point of keeping its commitment in line with the economic usefulness of its scientific achievements, however significant they may be.
The CRP-Henri Tudor, founded in 1987, is an integrated centre of applied research and technological innovation. Its main activities range from research to technology transfer including support for entrepreneurial activities and an incubator for start-ups. 170 employees are working at the centre, of whom 140 are engineers active in the fields of information and communication technology, and industrial and environmental technology.
The Centre Universitaire is a public institute in Luxembourg offering university studies. It consists of a number of departments: law and economic sciences, business administration and computer science, literature and humanities, science, professional training for lawyers, and professional training for teachers.
The Institut Supérieur de Technologie (IST) is a public institute for higher technical education composed of four departments: electrical, mechanical, and civil engineering, and computer science. Besides teaching, the IST also actively performs fundamental and applied research. Several collaborations exist with different national and international institutions, both in teaching and research. Close relationships are also maintained not only with numerous European universities, but also with industry in Luxembourg and especially with the CRP Henri Tudor for the purpose of technology transfer.
The implementation of a new University of Luxembourg with a major focus on research activities is currently in preparation and a new law will restructure the institutions of higher education in Luxembourg.
Links:
FNL: http://www.fnr.lu/
CRP-Santé: http://www.crp-sante.lu/
CRP-Gabriel Lippmann: http://www.crpgl.lu/
The CRP-Henri Tudor: http://www.tudor.lu/

Please contact:
Raymond Bausch
Fonds National de la Recherche
Tel: +352 26 1925 31
E-mail: raymond.bausch@fnr.lu