---
Archive: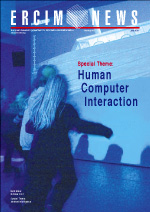 previous issue (April 2001):
Special theme:
Human Computer Interaction
list of all previous issues
---
Next issue:
January 2002

Next Special theme:
e-government
---
About ERCIM News:
ERCIM News reports on joint actions of the ERCIM partners, and aims to reflect the contribution made by ERCIM to the European Community in Information Technology. Through short articles and news items, it provides a forum for the exchange of information between the institutes and also with the wider scientific community. ERCIM News is published quarterly. The printed edition has a circulation of over 7500 copies.
ERCIM News is published by ERCIM EEIG, B.P. 93, F-06902 Sophia-Antipolis Cedex, France
E-mail: office

ercim.org
Director:
Bernard Larrouturou
Central Editor:
Peter Kunz
(peter.kunz

ercim.org)
Local Editors:
CLRC: Martin Prime
(M.J.Prime

rl.ac.uk)
CRCIM: Michal Haindl
(haindl

utia.cas.cz)
CWI: Henk Nieland
(henkn

cwi.nl)
CNR: Carol Peters
(carol

iei.pi.cnr.it)
FORTH: Constantine
Stephanidis (cs

csi.forth.gr)
GMD: Dietrich Stobik
(stobik

gmd.de)
INRIA: Bernard Hidoine
(bernard.hidoine

inria.fr)
SARIT: Harry Rudin
(hrudin

smile.ch)
SICS: Kersti Hedman
(kersti

sics.se)
SRCIM: Gabriela Andrejkova
(andrejk

kosice.upjs.sk)
SZTAKI: Erzsébet Csuhaj-Varjú
(csuhaj

sztaki.hu)
TCD: Carol O'Sullivan
(Carol.OSullivan

cs.tcd.ie)
VTT: Pia-Maria Linden-Linna
(pia-maria.linden-linna

vtt.fi)