The Web on the Move
Successfully attended with over 150 participants, the first outreach public Mobile Web Initiative (MWI) event, held in London on 15 Novenber 2005, focused on current mobile Web challenges and opportunities. The program opened with a video welcome from Tim Berners-Lee, followed by a presentation on the vision and ambitions for the mobile Web by Philipp Hoschka, Deputy Director for W3C Europe and W3C's Mobile Web Initiative leader.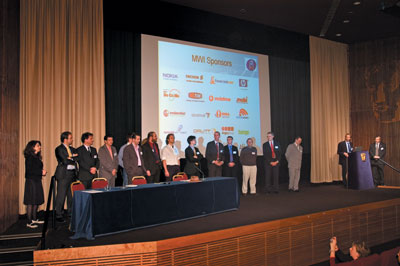 Mobile Web Initiative (MWI) event in London.
Mobile Web Initiative sponsors were present on two panels: 'Mobile Web Challenges and Potential' and 'Putting the Vision into Practice', chaired respectively by Rotan Hanharan, chief architect at MobileAware, and Daniel Appelquist, senior technology strategist for the Vodafone Group. All presentations are linked from the agenda available on the event home page.
The mobile Web goes where the users go. Instead of running back to their computer for Web access, users will now have Web access when and where they need it, using their mobile device. To that effect, Mobile Web Initiative (MWI) participants are building a database of device descriptions and developing best practices for the creation of mobile friendly Web sites.
MWI is led by key players in the mobile production chain, including authoring tool vendors, content providers, handset manufacturers, adaptation providers, browser vendors and mobile operators. Current MWI sponsors are: Ericsson, France Telecom, HP, Nokia, NTT DoCoMo, TIM Italia, Vodafone, Afilias, Bango.net, Drutt Corporation, Jataayu Software, Mobileaware, Opera Software, Segala M Test, Sevenval AG, Rulespace and Volantis.
Links:
MWI UK event: http://www.w3.org/2005/11/mwi-ukevent.html
W3C Mobile Web Initiative: http://www.w3.org/Mobile/