EU-INDIA'05 - Second Annual Conference of the ICT for EU-India Cross Cultural Dissemination Project
by María Alpuente, Santiago Escobar, and Moreno Falaschi
---
The Second Annual Conference of the 'ICT for EU-India Cross Cultural Dissemination Project', EU-INDIA'05, was held in Valencia, Spain, 14-15 November 2005.
In the framework of the EU-India Economic Cross Cultural Programme, the 'ICT for EU-India Cross Cultural Dissemination Project', coordinated by Prof. Furio Honsell from University Udine, aims at creating a network for developing collaborations and exchanges between European and Indian universities and R&D research centres in the areas of integrating new communication technologies in education and dissemination of entrepreneurial research from academia to business, with particular focus on heritage and e-governance.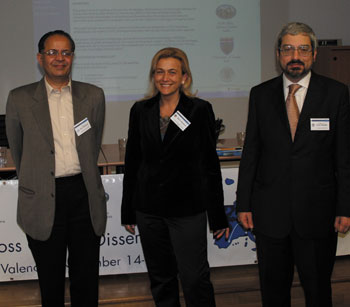 From left: B.G. Sidharth (Birla Science Centre, Hyderabad), María Alpuente (U. Politécnica de Valencia) and Furio Honsell (University of Udine).
The conference was attended by 30 participants from universities and research institutes of the four partner universities Udine, Genoa (both Italy), Valencia (Spain), and Hyderabad (India). The conference was inaugurated by Gumersindo Verdú, vice-chancellor for international actions of the Technical Unversity of Valencia (UPV). The three invited speakers gave highly interesting and stimulating presentations. Jaime Gómez, general director for scientific and technological parks of the Valencian government presented the 'Valencian Government Model for Research and Science Parks'. Juan José Moreno Navarro, international relations head for IST of the spanish ministry of education and science, described the ICT research activities in Spain and their European and Indian connections. Finally, Salvador Coll, director for new initiatives of the UPV 'Iinnovation Technical City' (CPI) in Valencia, spoke about research, innovation, challenges, and achievements at the CPI Science Park.
The technical program also included fifteen regular talks organized in six sessions: web categorization, natural language engineering, Web verification and repairing, Web-based declarative connecting tools, digital platforms for artistic collections, and hybrid museum infrastructure.
The conference chairs wish to thank the different institutions and corporations that have supported the event, especially the EU-India project ALA/95/23/ 2003/077-054, Università degli Studi di Siena, Technical University of Valencia, and the Spanish Ministry of Education and Science.
Link:
EU-INDIA'05: http://www.dsic.upv.es/workshops/euindia05/
Please contact:
Maria Alpuente, Technical University of Valencia / SpaRCIM, Spain
Tel: +34 963 879 354
E-mail: alpuente

dsic.upv.es