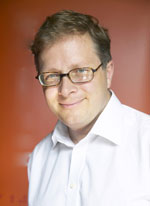 SICS -
Staffan Truvé is the new Managing Director of SICS and new member of ERCIM's Board of Directors
. Staffan Truvé has been appointed Managing Director of SICS as of 1st July 2005. The position is his third as Managing Director within the same group: Staffan Truvé already leads the Interactive Institute as well as the umbrella organization SITI, where SICS and Interactive Institute are included together with Viktoria and S:ta Anna Institutes. Consequently he will also join ERCIM's Board of Directors.
Staffan has 20 years of experience in research and high-tech startups. His research background is in compiler technology, computer architecture and computer vision. In 1994 he co-founded CR&T (Carlstedt Research and Technology), a research and development organization in the areas of computer science and computer engineering. He is also the co-founder of Spotfire, AppGate, Pilotfish, Gatespace Telematics and CADSIM. Staffan is the chairman of Gatespace Telematics and acts as a technical/business advisor to startups, venture capital funds, universities and government agencies. Staffan is 42 years old, and holds a PhD in Computer Science from Chalmers University and a BA in Business Administration from Göteborg University. He has been a visiting Fulbright scholar at MIT and maintains a strong academic network in Sweden and in the US.
The appointment of Staffan Truvé as Managing Director takes SICS one step closer to leading the co-ordination of the four IT research institutes in Sweden.