2005 Cor Baayen Award Winner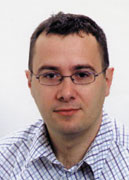 Milan Vojnovic from Cambridge, UK has been awarded the 2005 Cor Baayen Award for the most promising young researcher in computer science and applied mathematics by ERCIM.
Milan Vojnovic, originally from Croatia completed his PhD at Ecole Polytechnique Fédérale de Lausanne (EPFL) in Switzerland and has subsequently worked as an Associate Researcher in the Systems and Networking Group at Microsoft Research in Cambridge.
Milan's work in the area of network modelling impressed the judges with contributions to several topics including congestion control, mobility modelling, queuing performance and filecasting. For a young researcher to work on several topics, come up with novel ideas in each of them, some of which are seen to be valuable contributions convinced the judges of his merit for the award. The work is a clear example of what ERCIM strives to advance in that it is both theoretical in itself, but motivated by practical problems whose solution will have a significant impact. For example, his work on mobility modelling and simulation uses stochastic modelling based on fundamental probability theory, yet has shown that many simulations commonly used in industry are flawed, with potentially serious implications for the results built on them. He has proposed alternative models that can be simulated justifiably, and released code that can be used by practitioners.
The Cor Baayen award is not the first that Milan has received, since he has previously been given an award during his undergraduate studies at the University of Split, a best fellowship award during his graduate studies at EPFL, the ITC-17 best student paper award in 2001, and most recently, the IEEE INFOCOM 2005 best paper award and the ACM SIGMETRICS 2005 best paper award.
Further information can be obtained from the national contact or from the Cor Baayen Award coordinator Laszlo Monostori, SZTAKI, (laszlo.monostori

ercim.org).
http://www.ercim.eu/activity/cor-baayen.html