W3C10 Program Looked Back, Looked Forward
The World Wide Web Consortium (W3C) marked its tenth anniversary with a day-long symposium on 1 December in Boston, Massachusetts, USA. W3C10 brought together Web and Internet technical leaders from around the globe to both remember the W3C's origins and look to the future of the Web and W3C's role in it.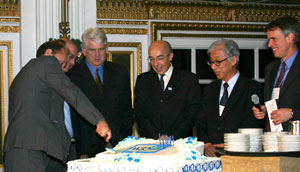 Cutting the anniversary cake. From left to right: Tim Berners-Lee, Jim Bell, Bob Metcalfe, Michel Cosnard, Nobuo Saito and Steve Bratt.
Ethernet inventor and Internet pioneer Bob Metcalfe was the event's master of ceremonies. The rich program included equal parts reflection and projection. Sessions covered the early days of the Web and W3C's emergence, through the commercial and social impacts of the Web on the world we now experience:
the How It All Started session speakers were Jean-François Abramatic (ILOG), Tim Berners-Lee (W3C), Alan Kotok (W3C), Dave Raggett (W3C), David Singer (IBM), Al Vezza (Foretec) and Steve Zilles (W3C Advisory Board)
the Impact on Science and Industry session, moderated by Michel Cosnard (INRIA and ERCIM), had the speakers Denis Lacroix (Amadeus e-Travel) and Teri Richman (National Association of Convenience Stores)
the Impact on Society and Culture session was run by Daniel Weitzner (W3C) and Lee Rainie (Pew Internet & American Life Project).

Other sessions looked at the impact of the Web and of Web standards, with an eye towards new frontiers for Web technical development, and tensions that may require resolution:
the Web of Meaning session speakers were Tim O'Reilly (O'Reilly Media) and Bill Ruh (Cisco Systems); the moderator was Eric Miller (W3C)
the Web on Everything session was moderated by Rohit Khare (CommerceNet Labs) and featured Takeshi Natsuno (NTT DoCoMo), Balaji Prasad (EDS) and Philipp Hoschka (W3C) as speakers
the Web for Everyone was moderated by David Berlind (ZDNet) with speakers Bill Gillis (Center to Bridge the Digital Divide) and George Kerscher (DAISY Consortium).
Finally, the day ended with reflections and projections, as well as a Q&A session conducted by both Bob Metcalfe and Tim Berners-Lee.
Links:
W3C10 speakers: http://www.w3.org/2004/09/W3C10-Speakers.html
W3C10 program: http://www.w3.org/2004/09/W3C10-Program.html
W3C10 slides: http://www.w3.org/2004/Talks/w3c10-Overview/