The GRASP Project: Innovative Middleware for Next Generation Grid-Based Application Service Providers
by Theo Dimitrakos
---
GRASP is an industry driven European research project exploring the use of the Grid Services concept for providing an effective technological basis supporting the evolution of the ASP market towards a sustainable Utility Computing model. The intention is to improve enterprise application service provision models so as to be able to take full advantage of the flexibility offered by Web Services and the Grid for supporting dynamic resource allocation, life-time management of dynamic service instances, resources integration and efficient distributed computation.
Application service providers empowered by GRASP middleware are no longer providing a fixed solution to the customer where the business logic is hardwired in the server side code but large portions of the business logic are achieved by customising and combining private and outsourced services as needed.
When properly integrated into a business workflow this bundle can soften enterprise borders, giving way to new, more flexible ways of secure and reliable collaboration. To achieve this, GRASP has developed an architectural framework for Grid-based Application Service Provision and a prototype realization of this framework. GRASP integrates concepts from application service provision and utility computing, from Service Oriented Architectures and Web Services, and a service-oriented view of Grid computing in order to empower this new generation of grid-based application service providers.
Grasp Architecture
Building on top of existing OGSA compliant middleware the key functionality of Location, Instantiation and Orchestration of Grid Services is extended to handle other enterprise concepts:
Subsystem "Location" to enable a dynamic search of Grid Services based on functional, performance, technological and business related criteria.
Subsystem "Instantiation" to attend the properly instantiation of Grid Services performing Load Balancing and invocation of other related subsystems such as Accounting or SLA monitoring.
Subsystem "Orchestration" to support the ASP in the provision of new business services achieved by means of the composition and coordination of existing Grid Services. It implements the workflow that encapsulates the business logic of the ASP application (described as BPEL business processes).
Further business functionality is provided as part of the GRASP Framework by means of a number of services classified in different subsystems that address core business support operations including:
Subsystem 'SLA management' to support a SLA management system including the use of SLA templates for negotiating service provision based on QoS criteria, and to monitor the fulfilment of contract associated to each Grid Service instances regarding QoS which are based on technical and business metrics in the vision of GRASP.
Subsystem 'Accounting' to perform the charging of service usage based on service related contracts between service users and service providers, obviously a must for ASPs. This GRASP subsystem works out the composite account of all services that are being executed on behalf of a client. It takes care of the collection of raw performance/resource data (shared with SLA monitoring); merging different costing models and applying explicitly defined pricing algorithms.
Subsystem "Security" to offer flexible security perimeters in which GRASP infrastructure secures complete Application Service (multiple distributed component Grid Services). It handles securely life-time and addition and expulsion of component Grid service instances collectively executing a complete application.
Overall, GRASP has been designing and implementing business critical subsystems that have not been addressed as yet in other major Grid projects including EDG, Globus and Unicore.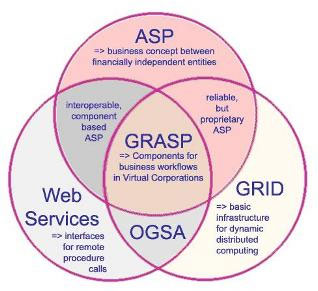 Key concepts underpinning the GRASP project vision.
GRASP Implementation Strategy
The current prototype of the GRASP project middleware leverages on the use of an 'open standards' technology base line including W3C web services standards and Microsoft, IBM, and BEA championed WS-* extensions (notably BPEL4WS, WS-Security, WS-SecureConversation and WS-Trust) and OGSI reference implementations. Continuing its committeemen to pioneering the convergence of Web Services and Grid Technologies for business oriented Grid applications, the GRASP consortium is currently developing a strategy for migrating its implementation base-line from compliance with OGSI standards to compliance with WSRF standards. A preliminary assessment indicates that because of the way that GRASP architecture has been designed (eg loose-coupling between Grid middleware functions and Grid-aware business and generic application components) the cost of such a migration is substantially low and we expect the next generation of GRASP middleware to support WSRF concepts.
Links:
GGF OGSA WG: https://forge.gridforum.org/projects/ogsa-wg
WSRF: http://www.oasis-open.org/committees/wsrf

Please contact:
Theo Dimitrakos, CCLRC, UK
Tel: +44 1235 446387
E-mail: T.Dimitrakos

rl.ac.uk