CoreGRID: European Research Network on Foundations, Software Infrastructures and Applications for Large-Scale, Distributed Grid and Peer-to-Peer Technologies
by Thierry Priol
---
A Network of Excellence in the area of Grid and Peer-to-Peer technologies commenced on 1 September 2004, and will allow European researchers to carry out a joint program of activities at an unprecedented level with the aim of developing next-generation grid middleware.
The CoreGRID Network of Excellence (NoE) aims at strengthening and advancing scientific and technological excellence in the area of Grid and Peer-to-Peer technologies. It is funded by the European Commission through a grant of 8.2 million Euro for a duration of four years. To achieve its objective, the Network brings together a critical mass of well-established researchers (119 permanent researchers and 165 PhD students) from 42 institutions - several of which belong to ERCIM - who have constructed an ambitious joint program of activities. This joint program of activity is structured around six complementary research areas that have been selected on the basis of their strategic importance, research challenges and existing European expertise to develop next-generation grid middleware.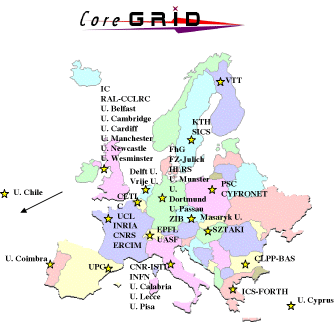 Figure 1: CoreGRID partners.
Virtual Institutes
To ensure progressive evolution and durable integration, the Network is operated as a European Research Laboratory - known as the CoreGRID Research Laboratory - having six institutes. Each of them is dedicated to the particular domain identified as of strategic importance to ensure a durable development and deployment of GRID infrastructures:
Institute on Knowledge and Data Management
Institute on Programming Model
Institute on System Architecture
Institute on Grid Information and Monitoring Services (WP5)
Institute on Resource Management and Scheduling
Institute on Problem Solving Environment, Tools and GRID Systems.
The Network is thus committed to setting up this Laboratory and making it internationally recognised and sustainable. It is funded by a European grant that is assigned to the CoreGRID NoE for a duration of four years to cover the integration costs, while the network partners cover the expense required to perform the research associated with the joint program of activities. Integration is achieved by the joint execution of research projects operated through research groups within the six institutes, the sharing of a common grid testbed for research assessment, the access to a common communication infrastructure to ensure collaboration and dissemination, and a coherent management framework to encourage mobility of senior and post-doctoral researchers and PhD students. In addition to these classical integration activities, the network has a proactive role to increase the awareness of trust and security technologies among the network participants.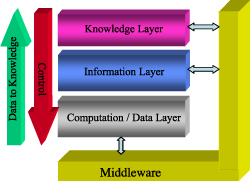 Figure 2: CoreGRID vision of the Next Generation Grid.
To guarantee that the expertise and the knowledge gained by Network participants will be of mutual benefit to the European Grid community (both academic and industrial), CoreGRID will organize a set of activities to spread excellence outside the Network. A public Web site is an essential mechanism for the international Grid community to present the Network as a Research Laboratory. A set of CoreGRID publications can be accessed thanks to this Web site (technical reports, network brochure and newsletters). The Network will organize a set of thematic workshops and conferences on an annual basis. Training activities are organized to ensure that CoreGRID is a leading educational source in Europe in Grid and Peer-to-Peer technologies. A dedicated activity under the form of an Industrial Advisory Board will target mainly industry and commerce to ensure a strong interaction and involvement.
Finally, CoreGRID is committed to participating in collaboration activities that can benefit the other EC Grid projects. In particular, it will take on a leadership role in the organization of training activities and will collaborate on EU grid roadmaps, research inventories and the establishment of a repository of reference implementations and grid middleware.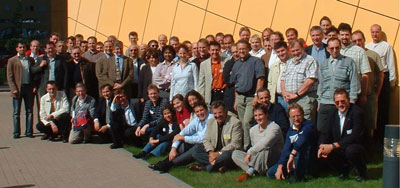 Figure 3: CoreGRID participants.
Link:
http://www.coregrid.net
Please contact:
Bruno Le Dantec, ERCIM
Administrative & Financial Coordinator
Tel: +33 4 92 38 50 13
E-mail: Bruno.Le_Dantec

ercim.org
Thierry Priol, INRIA, France
Scientific Coordinator
Tel: +33 2 99 84 72 10
E-mail: Thierry.Priol

inria.fr