ERCIM's 15th Anniversary Celebration
ERCIM celebrated fifteen years (1989-2004) of cooperation in research, technology transfer, innovation and training. More than 150 people, including representatives from ERCIM institutes and invited guests from academic and research institutions, as well as from the European Commission, gathered in Crete, Greece on 26 May 2004 to commemorate the ERCIM accomplishments.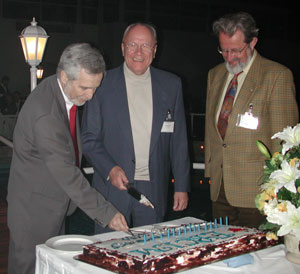 The ERCIM 15th Anniversary cake was cut during the Gala Dinner. From left: Stelios Orphanoudakis, Gerhard Seegmüller and Cor Baayen.
During the 15th ERCIM anniversary event, the President of ERCIM, Stelios Orphanoudakis (Director and Chairman of the Board of FORTH, Greece) gave an introductory presentation, 'ERCIM as a model for collaboration', which stressed the importance of expanding existing collaborations and taking on new challenges. The presentation included a brief history of ERCIM and the opportunities offered to young researchers, such as the Cor Baayen Award and the Fellowship Programme.
Cor Baayen, and Gerhard Seegmueller, two of the three founding fathers of ERCIM, shared their early steps and experiences towards the implementation of their vision for a European research community, favouring close collaboration and mobility of researchers. Alain Bensoussan, the third founding father had expressed his deep regrets that he was not able to attend.
Invited representatives of the European Commission, Gerard Comyn, Head of Unit, ICT for Health, and Thierry van der Pyl, Head of Unit, Future and Emerging Technologies congratulated ERCIM for its significant achievements and expressed their support for its continuing efforts towards European R&D excellence.
Keith Jeffery (CCLRC, UK), Vice President of ERCIM, presented the achievements of ERCIM and its growth over the 15 year-period, and finally, Andreas Rauber (Vienna University of Technology, Austria) Cor Baayen award winner 2002, referred to the benefits of such an award on both a professional and a personal level.