12th ERCIM Environmental Modelling Group Workshop: Current Trends and Developments
by Nikolaos A. Kampanis
---
The ERCIM Working Group on Environmental Modelling had its annual Workshop on 24 and 27 May 2004, at Hersonissos, Crete, Greece. The workshop was held during the ERCIM Meetings - Crete 2004 that took place in the week from 24 to 28 May at the Conference Center of Aldemar Knossos Royal Village Hotel at Hersonissos.
Members of the working group participated in the workshop along with researchers from FORTH-IACM and their cooperation partners, and presented their recent research work. Representa-tives of the regional authorities were also present and participated in the workshop. The presentations covered many fields of interest and promoted fruitful discussions among the participants.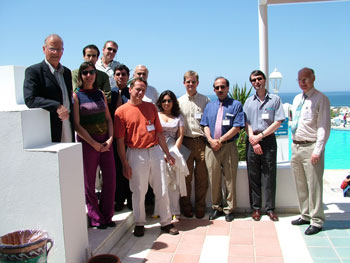 Workshop participants.
Environmental research issues that have been addressed included: data mining, air pollution modelling, remote sensing, image analysis, simulation techniques and information systems. A round table gave the opportunity to the participants to further discuss on research topics related to environmental problems, discuss on future plans and propose further means of strengthening the activities of the working group.
Furthermore, workshop participants took part in a series of events organised throughout the week, including three short workshops about the 7th Framework Programme co-organised with the European Commission and a familarization day at FORTH. On the occasion of the 15th Anniversary of ERCIM, a Celebration event was held.
Overall it was an enjoyable meeting with interesting scientific aspects as well as pleasant social activities. As part of the ERCIM Meetings - Crete 2004 the workshop especially benefited from the excellent organization of this whole event.
Link:
Workshop: http://www.iacm.forth.gr/numerical/Workshops/ERCIM.html

Please contact:
Nikolaos Kampanis, IACM-FORTH, Greece
Tel: +30 2810 391780
E-mail: kampanis

iacm.forth.gr
Achim Sydow, Fraunhofer ICT Group, Germany
Tel: +49 30 6392 1813
E-mail: achim.sydow

first.fhg.de