ContextControl - Game Based Interaction
by Holger Diener
---
Having highly complex menu and dialogue structures in applications contradicts good operability and deters beginners and occasional users. Intuitive computer games use concepts, which makes game functionality easy to grasp. ContextControl is an example of a new kind of user interface based on these computer game concepts. These Game Based Interfaces support and motivate users as they work and learn with applications.
In order to be as competitive as possible, today's applications offer a huge amount of functionality. The resulting highly complex menu structures can make it difficult to find menu items, thus contradicting good operability. Experts may manage with such applications, but an important group of potential users - beginners and occasional users - are deterred. The user's motivation to explore these applications is suppressed by the vast number of possibilities.
Since users only need a limited set of functionality for certain tasks, these problems can be overcome with new structures and concepts for user interfaces, which rearrange the application functionality. Computer games are a good starting point for such an approach, since they constantly employ new ideas in order to present and mediate their functionality (eg level systems, customisability, semi-transparency, virtual characters).
ContextControl is a Game Based User Interface that uses the level and customisability concepts of games in order to make working with applications as easy as playing games. In games, players can only access the functionality appropriate to their level of ability. They start with small sets of items or a limited range of options, and as they become more experienced and successful within a game, they gain access to more and more items and options.
This level concept can be used in applications as well. Users are first presented with a restricted interface that accesses only a small part of the functionality, meaning the interface is smaller and easier to understand. Once familiar with this functionality, users can request more functions for interaction. In this way, they can learn the application step by step.
In the case of different user-interface levels, it is important to carry over old and familiar structures of functionality into the next level, since changing the structure would only confuse users. For this reason, ContextControl provides tool areas instead of tool bars, within which buttons can be arranged more freely. Tool areas and sets of functionality can be changed simply by clicking a menu button.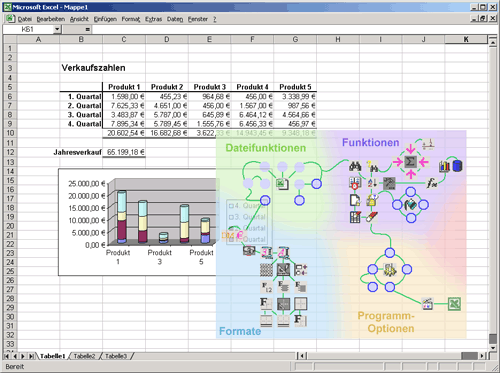 ContextControl tool area for MS Excel.
Using tool areas also allows more room for additional information. Background images can provide information about existing functionality, animated tool tips provide active help in understanding buttons and icons1, and animations can show previews of results. Together with the concept of customisability, which is also widely used in games, functionality in ContextControl can be organised to meet the requirements of special user groups, workflows and tasks. The level system can be used to train users with applications, and levels can be redesigned according to users' skills. Tool areas can also be used to represent different steps within a given workflow, with each offering only the necessary functionality for a certain step. Changing the tool area then changes the set of functionality according to the next step in the working process.
Using the level concept and allowing customisability wherever possible make ContextControl an interface that supports and motivates users as they work and learn with applications. ContextControl is opened using CTRL + the command used to open the standard context menu . This allows fast access to functions near the actual working area. As a semi-transparent window, ContextControl also allows observation of the working area while choosing the functionality. As long as the CTRL-key is held down, functions can be chosen from ContextControl to perform a series of actions. This decreases the number of mouse clicks.
The easy exchange of background images and therefore information makes it very easy to generate content for learning systems with ContextControl. Another field of application is the generation of user interfaces for training-on-the-job applications.
Future research will further explore how the functionality of applications can be simplified based on user preferences and work process requirements. Simplifying the user interface automatically would be one aim for research work. In addition we will investigate the use of other game concepts including story-telling, characters and metaphors.
Link:
http://www.igd-r.fraunhofer.de
Please contact:
Holger Diener, Fraunhofer Institute for Computer Graphics
Tel: +49 381 40 24 110
E-mail: holger.diener

igd-r.fraunhofer.de