Ronald de Wolf - Winner of the 2003 Cor Baayen Award
The 2003 ERCIM Cor Baayen Award was presented to Ronald de Wolf during a ceremony in Luxembourg on 5 November 2003. The 5000 Euro annual award is given to a most promising young researcher having completed a PhD thesis in computer science and applied mathematics, in one of the 'ERCIM countries'.
Ronald de Wolf did his PhD in the area known as quantum information processing and quantum computing. It is remarkable that as an undergraduate he had already written, together with Nienhuys-Cheng, the standard text on a completely different topic called Inductive Logic Programming. This book alone figures as a very impressive PhD thesis. De Wolf received PhD placement offers from MIT and CMU, but decided instead to study at the CWI.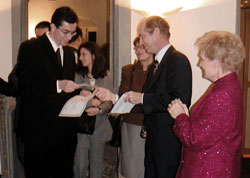 Ronald de Wolf (left) receives the Cor Baayen Award from ERCIM President Gerard van Oortmerssen. On the right is Erna Hennicot-Schoepges, Luxembourg Minister for Culture, Higher Education and Research, who welcomed the participants to the ERCIM meetings in Luxembourg.
Quantum information processing is a new and important field that combines the physical laws of quantum mechanics with those of computation, resulting in a new model of computation: the quantum computer. The field gained momentum when Peter Shor demonstrated the speed with which such quantum computers could factor large numbers. Most current cryptography, including electronic commerce, is based on the fact that no sufficiently fast factorisation method is known for classical computers. Shor thus demonstrated that if one could build a quantum computer then most of our cryptographic protocols could be broken.
It is this societal relevance that makes quantum information processing so important. Both North American and European funding agencies have set aside significant amounts of money to invest in this new technology.
Ronald's work received the highest praise in the international community and during his PhD he received frequent invitations to speak at international meetings and conferences. Among related fields, his PhD thesis ranks among the best worldwide over the last ten years. Ronald's work had a big impact on the field of quantum information processing, and parts of his PhD thesis are now standard inclusions in textbooks on the subject. For example, the impossibility method he developed to show the limitations of quantum computers has become a standard technique and is taught around the world in any class on quantum computing. New protocols and algorithms, such as the quantum fingerprinting technique, have been used by groups such as those at MIT and Berkeley to develop new cryptographic primitives like quantum digital signatures. These advances also attracted significant attention from the press, with articles in Physics News Update, Wired, Technology Research News, Süddeutsche Zeitung and others. The work on locally decodable error-correcting codes baffled the best-known researchers in this classical area of computer science. The elegant idea of using quantum mechanics as a way of proving a classical statement is highly original, and was considered a breakthrough result in the area of locally decodable codes.
Ronald is one of the very few truly brilliant students that his professor has seen. He is able to combine great mathematical skill with intense creativity in order to solve some of the hardest problems in his field.
The following researchers were nominated for the 2003 Cor Baayen Award: Pekka Abrahamsson, Finland; Giuseppe Amato, Italy; Steffi Beckhaus, Germany; Patricia Bouyer, France; Fredrik Espinoza, Sweden; Andras Gyorgy, Hungary; Keijo Heljanko, Finland; Victor Khomenko, UK; Sebastian Mika, Germany; Lars Rasmusson, Sweden; Zoltan Szabo, Hungary; Gerardo Hermosillo Valadez, France; Ruili Wang, Ireland; Ronald de Wolf, The Netherlands; Albertus P. Zwart, The Netherlands.
More information:
http://www.ercim.eu/activity/cor-baayen.html