SARIT - Professor Ambros P. Speiser died on May 10, 2003.

He was one of the last of the early pioneers of digital computer design and an insightful initiator and staunch supporter of scientific research. Ambros Speiser was the leading hardware designer for the construction of the legendary ERMETH computer built at the ETH (Swiss Federal Institute of Technology) in Zurich 1950 until 55, ie, during the years when Konrad Zuse's Z4, was used at ETH as the first digital computer at a continental European university. The ERMETH was then used until 1963. The ETH later honored Speiser for this work by awarding him an honorary doctor's degree.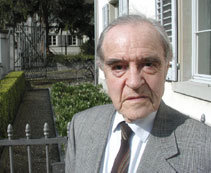 Ambros Speiser.
Well aware of his talents, Ambros Speiser was chosen by IBM to found its Zurich Research laboratory in 1956; he was its director until 1966. Then BBC (Brown Boveri & Company, now ABB) asked him to found and lead its corporate research laboratory in Baden. This he did until his retirement in 1987. Speiser was also a professor at the ETH in Zurich and often assumed both Swiss and international positions as leader and advisor. He was president of IFIP, the International Federation for Information Processing, from1965 until 1968, and of the Swiss Academy of Engineering Sciences. Ambros Speiser was not only a researcher with the highest aspirations but, in his retirement, added another talent to his repertoire - that of a most articulate and respected scientific journalist.

Carl August Zehnder,
Professor of Computer Science,
ETH Zürich