ERCIM becomes the European Host of W3C
The change of W3C European Host from INRIA to ERCIM took place on 1 January 2003. This organisational change aims to strengthen research relationships throughout Europe to better support Web technology development.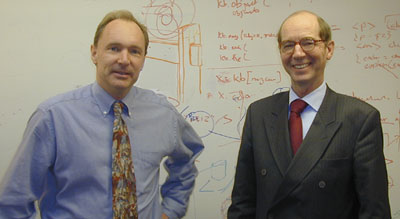 Tim Berners Lee, Director of W3C (left) and Gerard van Oortmerssen, President of ERCIM.
As the Web has grown into a more widespread and essential resource for industry, academia, governments, and their citizens, there is a pronounced need for an even more diverse infrastructure and support network. Establishing the W3C's European base at ERCIM will be beneficial to all involved. W3C's move to ERCIM opens new opportunities to integrate Web research and industry in Europe.
"The Web grows stronger and more useful when there are real commitments to engaging international presence and influence in Web technology development," explained Tim Berners-Lee, W3C Director. "For W3C, it means having one headquarters supported by three global partners - MIT, Keio University and now ERCIM. With the move to ERCIM, there is the potential for considerable growth and synergies of Web technologies across Europe."
"As a network of IT research centers, ERCIM encompasses over 10,000 researchers. W3C will benefit from this reservoir of expertise. For ERCIM, this change brings an opportunity to enhance cooperation on a global scale," noted Gerard van Oortmerssen, President of ERCIM.
Since its inception in the United States at MIT's Laboratory for Computer Science in October 1994, W3C has made sure that the World Wide Web lives up to its name and its promise. At the insistence of its Director, Tim Berners-Lee, the W3C has equal presence in North America, Europe and Asia. W3C identifies not-for profit institutions to serve as regional headquarters and provide physical locations for staffing. These institutions are identified as W3C 'hosts'. Moving the European host to ERCIM allows W3C to expand its base from one country to 16 for improved research and development opportunities throughout Europe, while maintaining its historically strong relationship to INRIA, one of the ERCIM founders.
"INRIA provided the necessary foundations for European involvement in Web infrastructure development, and now we have the opportunity to expand into a new phase," explained Bernard Larrouturou, President of INRIA and Manager of ERCIM. "Moving the host to ERCIM is consistent with INRIA's culture of incubating new initiatives and our commitment to strengthening the IT community in Europe." When INRIA became the first W3C European host in 1995, W3C had 50 Members in four countries. Today, the W3C Membership exceeds 450 organizations, with representation in nearly every country in Europe. INRIA's resources attracted both member organisations and technical staffing to W3C. INRIA also provided crucial links to European research communities. During this time, W3C received financial support from the European Commission to build a network of Offices throughout Europe. Currently, W3C has 13 Offices worldwide, with eight in Europe. Seven of the European Offices are already based at ERCIM Institutes, including CWI (Benelux), Fraunhofer IMK (Germany and Austria); FORTH (Greece), SZTAKI (Hungary), CNR (Italy), SICS (Sweden) and CCLRC (UK and Ireland). Offices work with W3C hosts promoting local languages, broadening W3C's geographical base, and encouraging international participation in W3C Activities.