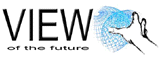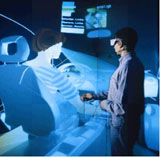 Virtual environments for workplaces of the future.

Virtual and Interactive Environments for Workplaces of the Future
by John Wilson
VIEW is an ongoing R&D project, involving three ERCIM members and addressing best practice in integrating Virtual Environments within industrial product development, testing and training for workplaces of the future.
Work of the future, in industry and in commerce, will have an increasing array of technical systems available, of ever increasing sophistication and improving functionality. These new technical systems, however, will be of no value and may prove even disruptive or harmful if they are not implemented with proper understanding of their capabilities and of the human and organisational issues surrounding their use.
'Virtual and Interactive Environments for Workplaces of the Future' (VIEW) is a EU-funded research and development project that addresses these requirements in the particular context of Virtual reality technologies and virtual environments. The Project started in January 2001 and will be completed at the end of 2003.The overall aim of VIEW is to develop best practice for industrial implementation and use of virtual environments, and integrate Virtual Environments in product development, testing and training for workplaces of the future. The main project objective is to face the numerous questions that arise from the lack of appropriate guidelines and standards on best practice implementation and use of Virtual Environment (VE) technologies. Moreover, VIEW focuses on initiating and supporting the integration of VEs in product development, testing and training processes, as well as on the broad adoption of VEs in European industries. In this context, the VIEW Project aims to develop essential technologies, methodologies and tools that will enable the industry to develop and use VEs in an appropriate way. In order to achieve this goal, the project will:
study and analyse the impact of VEs on their users
identify potential barriers for industries in making use of VEs
provide guidelines and strategies to overcome those barriers
use its findings in practice for designing appropriate VE workplaces
provide tools and guidelines for industrial users so as to make appropriate use of VEs.
The project will review existing and emerging VE systems and applications and will establish a user forum to facilitate the conduct of surveys of VE users, in order to identify user requirements. A usability test battery will be developed to capture physiological and cognitive aspects of the impact that VEs may have on end-users. The project will also develop new, multi-modal, mobile and multi-media interfaces by combining different input/output (I/O) modalities, as well as new intuitive navigation and manipulation concepts. Those interfaces will be implemented and tested in various pilot applications, which will allow reliable evaluation of the usability test battery, as well as critical assessment of interaction concepts, devices and design guidelines. The evaluation process will cover several topics, such as the ergonomics of VE technology; issues of usability, health and safety; socio-economic impact for users and society; appropriateness of the VE technology to meet user company needs; gains in terms of work effectiveness and quality.
The knowledge and experience acquired during the project will be analysed and reported in a code of good practice, which will allow the application of practical and validated guidance to the selection, design, implementation and use of VE systems in different types of workplaces and for different needs. This code of good practice will be integrated into an interactive design support tool, which will provide the knowledge developed by the project (guidelines, code of good practice, best use guidance, examples, etc.) to decision makers, VE designers, developers and users in an appropriate way and format.
The VIEW of the Future Consortium includes three ERCIM members, namely the Fraunhofer Institute for Industrial Engineering (IAO) (with the role of Technical Coordinator), VTT and ICS-FORTH. Other consortium partners are: University of Nottingham, United Kingdom (Administrative coordinator); University of Stuttgart Institute for Human Factors and Technology Management (IAT), Germany; Suomen WINTEC Oy, Finland; John Deere, Germany; Alenia Spazio, Italy; Volvo, Sweden; PSA Peugeot Citroen, France; Center of Applied Technologies in Mental Health (COAT-Basel), Switzerland; Institute of Communication and Computer Systems of the National Technical University of Athens (ICCS-NTUA), Greece.
Link:
http://www.view.iao.fhg.de/

Please contact:
John Wilson, University of Nottingham, UK
Tel: +44 0 115 9514004
E-mail: John.Wilson@nottingham.ac.uk