Case Study: Using a Database-Driven Website to improve Co-ordination of Government-Funded Initiatives
by Ellis Pratt
---
In March 2001, Lord Falconer launched the UK Government's Regional Co-ordination Unit new interactive website on Area Based Initiatives. Developed by Digitext, it provides for the first time data on key initiatives and is an important new information resource to government departments, local government, community and voluntary groups and those with a research interest in area-based policies.
The Government Offices for the Regions (GOs) and their corporate centre, the Regional Co-ordination Unit (RCU), work on modernising government and are responsible for delivering policy in the regions. Their objectives are better policy making, providing responsive and quality public services, developing the concept of information-age government and delivering a valued public service.
The unit is located in the Deputy Prime Minister's Office within the Cabinet Office. It has a multi-departmental constitution, which makes it ideally placed to implement cross-cutting initiatives and to consider government initiatives with a regional or local dimension. These regional Area-Based Initiatives (ABIs) are government programmes that concentrate on tackling deep-seated problems in a joined-up way. Rather than being applied uniformly across the country, they are targeted in particular areas of need.
The RCU wanted a website that provides an efficient and user-friendly information service, covering the issues and updates that are of concern to the RCU and its stakeholders. They wanted a major part of the website to be devoted to providing guidance and information to those concerned with running ABIs, as well as for general members of the public who may have an interest in other areas of work that the RCU undertake.
Aim of the Website Project
The objectives for the domain were to:
allow users to find details about ABIs occurring within their Local Authority District, County or Regional level, as well as being about particular topics or sponsored by particular Government Departments
be easily maintained by RCU staff
be accessible to all members of the public, including those not using graphical browsers.
Techniques employed
The core of the site was based around a Microsoft SQL Server database, holding information about each ABI, the sponsors, geographical areas, etc. Pages were generated from this database using Active Server Pages.
Stakeholders can list all the existing ABIs or search the database by looking for an ABI in many ways:
Full Text Search
Title only
Government sponsor
Government Office
County
District, Unitary Authority or Metropolitan Authority.
Pages are edited by entering a custom-designed secure online editing suite. RCU staff can add new ABIs, delete old ones or change the details of existing ones. They can also browse to a specific page in the live site and, by adding a special code to the URL, be taken directly to the correct page in the editing suite.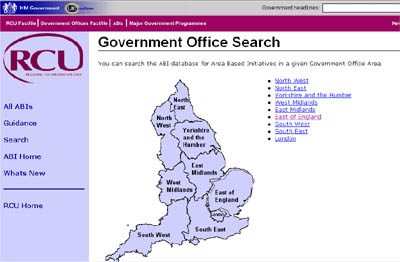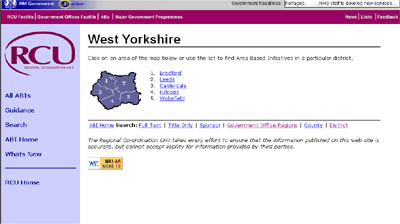 UK Government's Regional Co-ordination Unit new interactive website on Area-Based Initiatives.
Accessibility
By building the site with the W3C's Web Content Accessibility Guidelines in mind, Digitext was able to meet the RCU's strong target for universal accessibility without resorting to a separate, text-only version of the site, with all its attendant maintenance problems.
The pages were accredited to the W3C's Web Content Accessibility Guidelines, Level Double-A. This ensured that they were available to a wide range of users with a variety of limiting conditions such as blindness or inability to use a mouse. In addition, this lean, device-independent strategy of page creation also resulted in real gains in speed and usability for users in a conventional graphical web-browsing environment.
The solution passed its first major test when the RCU needed to update the site so that it reflected the changes to Government Departmental names and responsibilities following the June 2001 General Election.
The site could be developed by increasing the number of ways in which stakeholders can search the site – for example by parliamentary constituency or by postcode.
Links:
http://www.rcu.gov.uk/abi/default.asp
http://www.digitext.com
Please contact:
Ellis Pratt, Digitext, United Kingdom
Tel: +44 1844 214690
E-mail: ellis.pratt@digitext.com