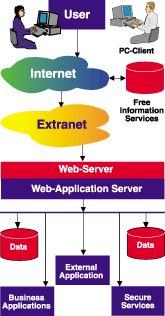 The overall architecture of the system.
Digital Signature Applications for E-Government
by Marlies Ockenfeld
---
In the course of the Federal Ministry for Trade and Commerce's Media@Komm competition for German municipalities, the city of Esslingen's proposal won support for an e-government project, which started in spring 2000.
Online services for e-government are to be realised through a co-operation between research institutes, industrial partners and the municipality. IPSI is one of the two research institutes involved. The services have been divided into five groups: local services, cultural services, social services, educational services and business services.
The selected applications range from pure information services through interactive services to the secure exchange of official documents via the Internet. They must conform to the regulations of German law.
The increasing opportunities created by innovative systems and programming techniques have given rise to a new kind of application scenario, commonly referred to as electronic government. The digital signature is a technology that enables safe and legally binding transactions based on networked communication and the exchange of electronic documents. To explore possible application areas and the potential of this technology requires the modelling of processes, focussing, among other things, on administrative matters, their interlinking and interaction with other applications. The project therefore has been analysing different application areas as to their interconnection and, in doing so, concentrates on secure and legally binding information exchange on various levels.
In e-government, electronic documents and their exchange are the core of any application. Therefore, our work focuses on the following topics:
standards for semantic information structuring; separation of content and layout
meta-information and standardisation for the reuse of information
standards for the electronic exchange of documents which are used by several applications
embedding digital signatures in the document structures.
Due to international developments and, in particular, the extensions and enhancements of the Internet, XML and XML-based applications have become particularly important. This is why we have been focussing on a number of XML-relevant topics, especially in subprojects dealing with trade, education, and culture, including:
concepts of uniform data modelling
administration and storage of data
exchange and distribution of data
information brokering.
The results will be applied to various legally binding processes. To design a comprehensive system that meets the requirements of Media@Komm, it is necessary to base the work on the advanced technologies of the Internet Application Framework as well as the Distributed Internet Application and to analyse content and organisational application aspects in terms of the security technology available. Relevant base technologies comprise:
web computing (DHTML, scripting, server technology)
component software (COM, CORBA)
network services (transactions, security).
The scientific and technical aims of the project are clearly directed towards technological aspects, ie, the implementation, use, and long-term application of existing (international) standards and the tools available for electronic commerce. This will lead to new challenges concerning the redesign of a number of application areas. Co-operation with key companies such as IBM and Oracle has been secured. The reorganisation of application processes as a result of introducing digital signatures will enable the integration of single service steps into one customer-oriented function, thus reducing the number of partners and expenditure required for communication with citizens, organisations and enterprises.
To be successful, the use of information technology for the support of multimedia communication, security issues, and legally binding relationships must be accompanied by efforts to introduce new process models (and thus new models for organisational infrastructures). From a technical point of view, it will be necessary to utilise future-proof standard tools for the prototypical realisation of legally binding business transactions, and to evaluate their usefulness in terms of the project goals in the course of the project.
The security concept must be adaptable to changing legal prerequisites, and corresponding components need to be developed and applied. Furthermore, all developments have to comply with standards and an open-system philosophy, in order to guarantee efficient extensibility, adaptability and reuse. The duration of the project is from January 2000 to December 2002.
Please contact:
Klaus Mätzel, Fraunhofer IPSI
Tel: +49 6151 869 808
E-mail: maetzel@ipsi.fraunhofer.de