AARIT becomes ERCIM's Austrian Member
by Wolfgang Hawlik
---
AARIT, the Austrian Association for Research in IT (Österreichische Vereinigung für IT-Forschung), officially joined ERCIM in October 2001. AARIT will be ERCIM´s gateway to the Austrian information technology research community.
AARIT was founded in May 2001 as a platform for the Austrian information technology research community. AARIT is a legal entity and an independent not-for-profit association.
Co-founders of AARIT were the Austrian Research Centres Seibersdorf (ARCS) and the Austrian Computer Society. ARCS (www.arcs.co.at) is the largest application-oriented information enterprise in the country. It serves as a research centre for the private sector and government agencies. Five hundred employees work at locations across Austria. ARCS designs products and processes – from drafting to development and testing to industrial applications. The Austrian Computer Society (OCG – Österreichische Computer Gesellschaft, www.ocg.at) is Austria's umbrella organisation of associations and institutions involved in information processing. Founded in 1975, OCG now has more than thirty institutional members, among them independent research organisations and university institutes working in the field of informatics and mathematics.
The mission of AARIT is to promote information technology and related subject areas. To achieve this, AARIT aims to strengthen scientific co-operation among its members on a national level, through international co-operation and through transfer of know-how and knowledge.
The activities of AARIT include co-operation with and participation in scientific organisations nationally and internationally. The Association carries out, participates in or commissions research projects, organises meetings and courses, and participates in conferences. Further activities include the granting of fellowships, awards and sponsorships and the collection and exchange of information among members and third parties.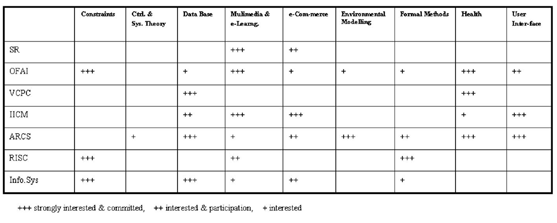 AARIT's common research interests with ERCIM Working Groups.
AARIT has both institutional members and individual members. Institutional members are scientific institutions or associations and enterprises, currently including OFAI (Austrian Research Institute for Artificial Intelligence), Salzburg Research, VCPC (European Centre for Parallel Computing in Vienna), RISC (Research Institute for Symbolic Computation) and the Department for Information Systems at the Vienna University of Technology.
Among the individual members are scientists and honorary members, such as Pro-IT, an Austrian association which brings together scientists working in universities as professors or senior lecturers, and senior research scientists working in public or private/industrial research institutions.
The institutional members of AARIT cover a wide range of research activities within informatics and mathematics (see chart below), similar to the Working Groups of ERCIM. In addition, AARIT members participate in other research projects such as AGRID (Austrian GRID Consortium), image processing and advanced computer vision, safety and security of software intensive systems, embedded systems, natural language processing, bio-informatics and social aspects of IT (social inclusion and IT applications for people with special needs).
Links:
AARIT: http://www.aarit.at/
ARCS: http://www.arcs.co.at/
OCG: http://www.ocg.at/
Please contact:
Wolfgang Hawlicek, AARIT
Tel: +43 1 512 02 35 0
E-mail: aarit@aarit.at