Áit Eile, Another World for HCI
by Paula Hicks, Rose Mc Grath, John Mc Keown, Kieran Mc Nally and Jane Grimson
---
Spending a lifetime with a serious or chronic health condition can be traumatic, stressful and physically and emotionally painful. This is especially true when the individual enduring the condition is a child or adolescent. The psychosocial issues suffered by these children include isolation, change in family dynamics, depression, withdrawal, loss of peer interactions to name but a few. The Áit Eile project proposes to tackle some of these issues by creating an online environment which will provide for communication, social support, relaxation, entertainment and distraction.
Áit Eile (Another World) is a two-year project run by the Centre for Health Informatics, Trinity College, which started in September 2000, and is funded by the Information Society Commission through the Department of Health and Children, and IBM. The main objective of the project is to develop a secure on-line virtual community for children in hospital, which would allow young patients to communicate with each other via email, live chat, and video-conferencing over a secure Internet connection. Through a web-portal, the system will also provide access to activities (eg arts and crafts), educational opportunities and links to favourite web sites pitched at an appropriate level, from hospital, home, or school. The aim is to empower seriously ill children to combat the medical and emotional challenges they face on a daily basis.
HCI and Usability Issues
The main HCI challenges which confront Áit Eile, emerge from the provision of a secure online community environment where children can chat, email and videoconference. Additionally they need to be able to access their local Bulletin Board for information, play games, and take advantage of educational facilities. The primary goal is to create a self-explanatory communication portal, which endeavors to make the children's interactive experience intuitive and satisfying. In designing the user interface, it is also necessary to take bandwidth availability into consideration. Children could be accessing the system via a high-speed ISDN line in the hospital or school, or from their own home via a slow dial-up modem connection,
The project has adopted a relatively standard approach to addressing usability issues. Interviews and focus groups involving the children themselves, the medical and nursing staff in the participating hospitals, teachers, educational psychologists, and play therapists, were used to capture the user requirements. A detailed task analysis was then carried out which resulted in a structured template that acts as a foundation for the user interface design. At this stage, a set of usability benchmarking standards were established against which progress can be measured and tested. In the case of video conferencing for example, the minimum quality of voice and visual data was outlined, with a preference given to the quality of voice over image.
The conceptual and visual design phase is an iterative process, which aims to minimize the learning time necessary for the user to navigate the system, to maximize their retention of their newly acquired 'how to' knowledge, and most importantly to enhance their sense of satisfaction with the system. In this way the children will easily immerse themselves in the activities of the community without the risk of foundering on the technology. The visual design phase aims to provide an accessible multisensory environment in which the children have a sense of control. They will be provided with expressive tools with which they can develop their inherent creativity and sociability. A degree of personalization will be built into the portal offering different features to different age groups.
Testing and evaluation will be based on a series of prototypes, refined on the basis of feedback and experience, with each successive prototype offering increasing functionality and a variety of access modes. The first prototype, incorporating login, chat, games and video conferencing, is scheduled for live testing in early June 2001. This will involve children in two of the participating hospitals communicating with each other via the system. The two hospitals involved are already connected via a secure Intranet over ISDN, which significantly simplifies security considerations.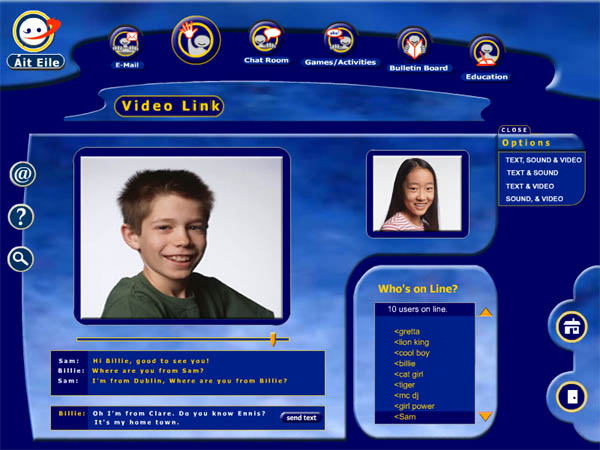 Video conference prototype interface.
Future Plans
Áit Eile currently involves six hospital schools in Ireland: the National Children's Hospital; Our Lady's Hospital for Sick Children, Crumlin; Cork University Hospital; Temple Street Children's Hospital; the National Rehabilitation Hospital; and Cappagh Orthopaedic Hospital; as well as the Barretstown Gang Camp [www.barretstowngc.ie]. In the coming months the prototype will be extended and all the sites brought on-line. Initially children will access the system from a desktop PC generally located in the hospital school room. Within the two-year time-frame of the project, it is planned to open up access using laptops for children who are confined to bed, and for children at home. This will pose both technical and usability challenges, and, most importantly, will require careful attention to security and monitoring control.
A similar and highly successful project, Starbright (www.starbright.org) has been in operation in the US for a number of years and there is interest in developing a European-wide virtual community. It is hoped therefore to link Áit Eile with these other networks.
Please contact:
Kieran McNally —Trinity College Dublin.
Tel: +353 1 608 2381
E-mail: Kieran.McNally@cs.tcd.ie