ERCIM News No.28 - January 1997
Virtual Reality in Education
by Matti Kuusisto and Raimo Launonen

---
A new research and development project ­ PostPressSim ­ Computer aided training system for book binding, finishing and mailing has been launched utilising multimedia and three dimensional virtual reality simulation. PostPressSim is a European joint project and it is supported by the EU's education programme LEONARDO. VTT Information Technology acts as a coordinator of the project and is responsible for developing the virtual reality simulator. The demonstration version of the virtual reality simulator is ready and the first official demon-stration was given at the international newspaper fair IFRA96 in Geneva from 14-17 October 1996. The project will be finished at the end of 1998.
During this project the knowledge and know-how of the partners from six countries is integrated into a new educational system. The partners will contribute their special skills with a view to the educational and pedagogical aspects at university level; with an understanding of the need for continuing vocational and life long learning; an expertise in the graphic design of multimedia and user interfaces; and with their research results in graphic arts and commercial virtual-reality simulation applications.
After the printing press several production steps are needed before transportation of the end products to customers. Examples of production phases: gluing, gathering, binding, trimming, stacking, sewing, nipping, smashing, feeding, rounding, backing, inserting, backlining, headbanding, casing-in, forming, jacketing, cutting, embossing and colouring.Teaching and learning above mentioned complicated and combined production lines is very limited without real machines. Because the machines and material costs are extremely high the virtual reality simulation and multimedia is the only reasonable key to this kind of education.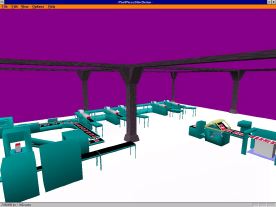 A sample factory layout of the virtual reality simulator

---
PostPressSIM will be the first software solution for educational needs of post-press operations and machines in schools and companies. With the projected PostPressSim system different groups could be trained to understand and use various machines of finishing and mailing departments. Also production of different products like newspapers, magazines, books etc. could be trained by simulations and multimedia without cost of expensive machines and materials. The system will be suited for schools and companies, and with different basic skills.
The virtual reality simulation and multimedia will make the PostPressSim system very realistic and easy to use by different groups who need not to be closely connected with the real machines. With the flexible changes in the configuration of the simulated factory, the system can be adjusted to different demands.
Please contact:
Matti Kuusisto - VTT Information Technology
Tel: +358 9 4565948
E-mail: matti.kuusisto@vtt.fi
---
return to the contents page