ERCIM News No.26 - July 1996 - CWI

CWI celebrates 50th Anniversary
by Henk Nieland
---
CWI is the research institute of the foundation Mathematical Centre (SMC), founded in February 1946, in the spirit of rebuilding The Netherlands after the Second World War. This year, several activities mark the celebration of CWI's 50th anniversary.

In February, a mathematics congress with speakers in all fields covered by SMC's National Activities in Mathematics (CWI is SMC's research institute), drew 200 participants. They all received a copy of the jubilee book Images of SMC Research 1996. Speakers included well-known mathematicians such as L. Nirenberg, G. Faltings and R. Graham.
Directly following this congress, a policy-oriented symposium constituted the formal jubilee event. Speakers included A. Rinnooy Kan, chairman of the Dutch Employers' Organization and &shyp; in his own words &shyp; a mathematician in the gutter, and R. van Duinen, chairman of the National Research Council NWO.

In March, a festive evening with speeches by Donald Knuth and Benoit Mandelbrot was attended by four hundred mathematicians and computer scientists. In April, a computer science congress was organized jointly with the Academia Europaea, with speakers, among others, R. Milner and A. Razborov.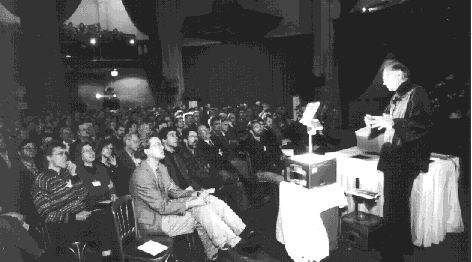 Donald Knuth addresses four hundred mathematicians and computer scientists in Amsterdam
on the occasion of CWI's 50th anniversary
Meanwhile a problem-solving national competition was started. The problem is derived from commissioned research on optimal circulation of railway rolling-stock, carried out by CWI on behalf of Dutch Rail. Finally, in August, CWI's annual summer course for mathematics teachers will receive special attention. This course was given without interruption from 1946 on, except in 1954, when the International Congress of Mathematicians took place in Amsterdam.


---
Please contact:
Frans Snijders - CWI
Tel: + 31 20 592 4171
E-mail: franss@cwi.nl
---
return to the contents page