VTT Develops Dependability Evaluation Methods for IP Networks
by Ilkka Norros
---
The Finnish research project 'Dependability evaluation methods for IP networks' - IPLU aims to create a conceptual framework and methods for assessing the complex problem "Can one rely on IP technology?" The research is done by VTT and funded by several organisations, including the Ministry of Traffic and Communications, the National Emergency Supply Agency and four telecom operators.
Since the project aims at a comprehensive view of the topic, it has a multidisciplinary character combining VTT's expertise in telecommunications technology, teletraffic and network modelling, and reliability analysis. In the international workshop 'Dependability of all-IP networks', organised by the project 18-19 May 2006 (http://iplu.vtt.fi/workshop-06.html), the multidisciplinary nature was further enriched by contributions from human activity research and theoretical computer science.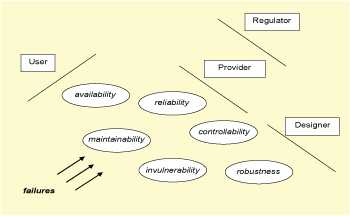 A preliminary conceptual framework for network dependability, discussed in the baseline paper of the IPLU project.

This approach has proven fruitful. The established methods of safety and reliability assessment used in contexts like nuclear power are not mechanically transferable to the highly dynamic world of IP networking, and, on the other hand, researchers with telecom background are mostly unaware of the experience accumulated in the reliability research traditions. The IPLU project aims at inventing new methods, but not at inventing the wheel anew from scratch.
As one of its first tasks, the research team produced a baseline paper that sets the scene for structured discussion of the dependability problems in IP networking. The internet is recognized as a new medium the character of which is more generic than traditional electronic communication media like telephone and television. The baseline paper proposes a preliminary conceptualization of dependability, where a traditional set of dependability attributes is augmented by aspects that reflect the self-regulation features of the internet architecture. The paper is available from the project's webpage.
The main aim for the autumn of 2006 is to propose an initial set of criteria, indicators, procedures and recommendations for consideration by network operators and other actors on the telecommunication scene. VTT is prepared to continue IPLU's work in future projects.
Link:
http://iplu.vtt.fi
Please contact:
Ilkka Norros, VTT-Technical Research Centre of Finland
Tel: +358 20722 5627
E-mail: ilkka.norros
vtt.fi