INRIA - Michel Cosnard became the new president of INRIA following a decree signed by the French President Jacques Chirac. Michel Cosnard takes over from Bernard Larrouturou, who was recently appointed Chief Executive Officer of the French National Centre for Scientific Research (CNRS).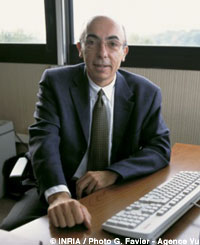 Michel Cosnard was born in 1952. He received his engineering degree in computer science from ENSIMAG (Grenoble, France), his Master's degree in applied mathematics from Cornell University (USA) in 1975 and his Doctorat d'Etat in computer science from the Université de Grenoble (France) in 1983. He joined the CNRS in 1979, and in 1987 he was appointed professor of computer science at the 'Ecole Normale Supérieure de Lyon' (France), where he founded the 'Laboratoire d'Informatique du Parallélisme' (LIP). He served as chairman of the LIP until 1997.
In 1997, he became director of the research unit of INRIA in Lorraine, and of LORIA ('Laboratoire Lorrain de Recherche en Informatique et ses Applications'). In June 2001, he was nominated director of the INRIA research unit in Sophia Antipolis (Nice). His research interests are in the design and analysis of parallel algorithms, and the complexity analysis of automata and neural nets. In January 2001, he was appointed director of the French National Research Program on Grid Computing by the Ministry of Research. In 1994, Michel Cosnard was awarded a national prize from the French National Academy of Science. In 1995, he received the IFIP Silver Core and in 2003, the Charles Babbage Award. He has published more than 100 papers related to parallel processing.
Michel Cosnard will represent INRIA on ERCIM's Board of Directors and will continue to act as ERCIM's manager.