Remote Monitoring of Health Conditions
by Dirk Husemann
---
IBM researchers working with medical device manufacturers and mobile-phone handset manufacturers have created a unique solution to track vital health signs.
This technology, if adopted, could help limit a patient's health risk, increase his or her level of comfort, reduce both the number of check-ups and the time spent in hospital, and enhance the effectiveness of pharmaceutical field tests. The solution includes a so-called 'pill box' and a home-based blood-pressure monitor that resembles a large wristwatch.
These new prototypes build on existing devices available through specialist suppliers and diagnostics companies. The new enhancements make it possible for the devices to transmit secure patient data, free of tampering, through a mobile phone to an Internet portal and so to the doctors and nurses monitoring the patient.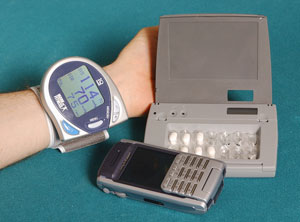 Health-monitoring devices such as the blood-pressure cuff (left) and pill box (right) send data to the mobile phone via Bluetooth. The mobile hub software integrated into the mobile phone (centre) forwards the data to a care centre for monitoring (screen in the back) and returns reminders or alarms in an emergency.
The wristband blood-pressure monitoring device can also check other vital signs such as heart rate, and is activated by simply pressing a button. Blood-pressure readings, for example, are gathered from one or more sensors via a Bluetooth short-range radio connection. Once transmitted, secure access ensures only authorised medical personnel see the patient's data. If an unusual reading comes through, either a reminder can be sent to the patient to take his or her medication or a new prescription can be made, depending on the doctor's diagnosis.
The 'pill box' helps keep track of the patient's medication by sending a signal to his or her mobile phone every time a pill is removed. If a patient forgets to take medication or is taking too many pills, he or she is sent a reminder via mobile phone to follow the prescribed doses.
Since vital measurements are readily available and can be monitored on-the-go, it is expected that both these solutions will increase patient mobility and help reduce the need for patients to visit the doctor . Regular and frequent monitoring can also bring peace of mind to people with chronic illnesses or those recovering from an operation. These devices are already of great interest to the pharmaceutical industry, which will be able to conduct field trials of new drugs more accurately.
These solutions are examples of how technology from the emerging field of information-based medicine can be used to deliver medical information in real time to help the medical profession and the health industry improve the quality of patient care.
Link:
http://www.zurich.ibm.com/csc/mobile/index.html
Please Contact:
Dirk Husemann, IBM Zurich Research Lab/SARIT
E-mail hud
zurich.ibm.com