Towards an Integrated Platform for Online One-Stop Government
by Maria Wimmer and Roland Traunmüller
---
The European project 'eGOV' focuses on concrete implementations for one-stop government. Its major developments comprise an integrated platform, a standardised data and communication exchange format and adequate process models for online public services.
One-stop government reflects a key trend within the current evolutions in e-government. It refers to a single point of access to public services and information. Online one-stop government requires that all public authorities be interconnected electronically. Public services are available to the customer (citizen, private enterprise or other public administration) through a single point of access, even if these services are delivered by different public authorities or private service providers. Further, the services and information are offered in a well-structured and easily understood manner, which meets the customer's needs and does not require specific knowledge about the functional fragmentation of the public sector.
The eGOV project – a European project co-funded by the EC within the 5th Framework Program (IST-2000-28471) – aims to develop, deploy and evaluate an integrated platform for realising online one-stop government. A consortium consisting of ten partners from governments, the IT sector and research institutions from five European countries should implement this overall goal. At the end of the two-year project, which commenced in June 2001, the platform will be deployed and evaluated in Austria, Greece and Switzerland by the governmental project partners.
Integrated Platform
The eGOV platform enables the public sector to provide citizens, businesses and other public authorities with information and public services that will be structured around life events and business situations, thus increasing public authorities' effectiveness, efficiency and quality of service. The technical components consist of:
the next-generation online one-stop government portal and the according network architecture. The portal acts as the front-office and global entrance point to the electronic public services. It features a number of advanced functions such as personalisation, customisation, multilinguality, support of push services, digital signatures and access from different devices including mobile devices.
one national and many local service repositories (SR). In addition to supplying online data and information relating to public services, the SR also provides a transactional service structure. Furthermore it provides the interfaces to local legacy systems already utilised by public administrations.
service creation environment (SCE). The SCE is a collection of tools that serves as the front-end to the SR. It allows the public services available in the Service Repositories to be maintained and updated.
GovML: Standardised Data and Communication Exchange
For a smooth online one-stop government, all public authorities need to be interconnected horizontally (eg, municipality and provincial authority) as well as vertically (eg, local municipalities). In this respect, an essential requirement is a standardised common data, document and communication exchange over the global web for administration-specific content. The Governmental Mark-up Language (GovML) will be developed within the eGOV project, and will represent the 'glue' connecting the portal and all public repositories. GovML will be based on XML technology and will provide a common, flexible and extensible syntax for the public sector. It will support the transport of data and information between the distributed back-offices and the portal (front-office).
GovML will fulfil specific requirements such as standardised data formats and filtering. It will further facilitate basic functionality like confidence, security etc. Similar to ebXML standardisation initiatives for e-Commerce (cf. http://www.ebxml.org/), GovML should become an open standard for governmental processes providing standardised data types and process model components for describing and performing public services and processes which are structured according to the customer's needs (ie, life events for citizens and business situations for companies).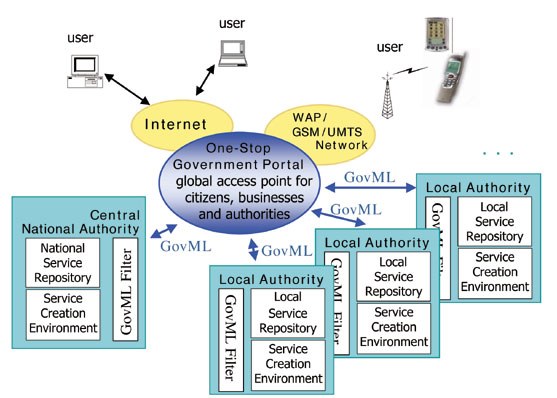 The overall system architecture for the eGOV online one-stop Government platform.
GovML will support access from different devices while the use of filters will enable service repositories to be easily accessed independently of the format of the repository data. In this way, existing content and services that live in heterogeneous sources (database, word file) may be reused. Appropriate filters will translate a given format into the required GovML format.
Modelling Public Services
As the general system architecture demonstrates, the portal represents the global entrance point to many different local services from distinct public service providers. Customers as well as public authorities can access these offers via the Internet or even on the move via devices such as mobile phones, handhelds, etc. This forms the external, or customer-focused view of public services. From a government-specific perspective (the internal view), the services are considered as the sequence of process steps that must be performed by the overall system in order to fulfil customer requirements.
Bringing together these two points of view is an important issue for the modelling of public services that are delivered through a global single access point. Several key aspects have to be addressed in order to meet this requirement:
applying a holistic concept to modelling public services
finding an appropriate mapping terminology
developing integrated service models that cover both the front-office (portal) and back-offices
adequate merging of service models with the technical components of the platform
applying a user-centric and service-centric development approach.
Link:
http://www.egov-project.org/

Please contact:
Maria Wimmer, University of Linz, Austria
Tel: +43 732 2468 9586
E-mail: mw@ifs.uni-linz.ac.at