Universal Multimedia Access – A Part of the Midgard Media Lab Research Portfolio
by Andrew Perkis
---
Midgard Media Labs vision is to establish a common Media Base/Media Player for NTNU serving their internal needs as well as those of collaborating interest groups in Norway. Further, they want to establish a common Service Centre and Help Desk functionality for individuals and institutions needing help to build and understand content for the new digital media and to provide a common platform for advanced research within multimedia content generation, digitisation, distribution and presentation.
Midgard Media Lab is organised in four parts:
Midgard Research: Long term, basic, multidisciplinary media research initiative based on PhD and Masters students in collaboration with industrial Sponsors and Thematic consortia
Midgard Media Base and Midgard Net: Common media base and media net for application developments and collaborations
Midgard Education: Common educational initiative in new digital media and media technology at NTNU.
Midgard Research involves building consortia for collaboration on development of media technologies. We are currently focussing on broadcast, telecommunications, medical, and advanced interactive media consortia, which involve partners such as NRK, Telenor, FAST Search and Transfer, GRIDMEDIA, aha.com, AVID, Apple, IBM and others.
Midgard Research addresses issues regarding access to rich multimedia content through a variety of possible schemes and systems according to the terminals capabilities and network conditions (Digital TV networks, very high speed IP networks, ATM networks, IEEE811.x networks, IEEE1394, GSM, UMTS, TETRA, etc). The application focus is towards multimedia distribution (communications, broadcasting, webcasting) using future generation mobile and wireless communications systems. The Universal Multimedia Access – UMA – concept will ensure the user gets the same reliability and seamlessness in the mobile system as in a fixed environment. The problems addressed are QoS issues in network solutions for multimedia communications and reconfigurable architectures and network control based on source adaptations through media conversions.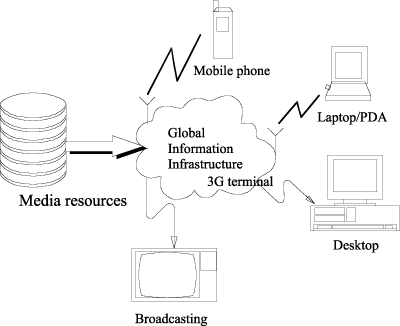 Universal Multimedia Access.
Universal Multimedia Access (UMA) is about how users can access the same media resources with different terminal equipment and preferences. For this to be enabled, the media resources have to be adaptable and flexible according to the users' needs and capabilities. To accomplish this a media delivery architecture has been developed taking advantage of some of the possibilities in the upcoming Multimedia Framework, MPEG-21. A test bed, used for experimentations and developments of MPEG-21, is under development, which models parts of the UMA concept and MPEG-21. The test bed emulates media resource delivery in a streaming environment, with various terminal and network capabilities. The paper describes the test bed concepts and discusses issues on media representation and presentation relating to a streaming media environment.
Our work has had a strong impact on ISO standardisation work such as JPEG2000, MPEG-4, MPEG-7 and MPEG-21. Contributions to JPEG2000 lead to the establishment of a Working Group under the ESPRIT program (EUROSTILL), coordinated by personnel from our department. Further efforts were continued within the ACTS project SPEAR with NTNU as partner. This collaboration has lead to ongoing co-operation with Ericsson Media Lab, EPFL, IMEC, and the University of Wollongong, and is currently kept up through our involvement in MPEG-7 and MPEG-21. At the European level we are part of COST action 276 Information and Knowledge Management for Integrated Media Communications Systems.
Our current project portfolio consists of projects funded by the Norwegian Research Council (UMA - Universal Multimedia Access from Wired and Wireless Systems), NORDUnet2 (Nordic Minister Council, including universal access to the multimedia portal) and industry consortia through Midgard Media Lab.
The Norwegian Research Council funds a PhD based research program focussing on fundamental issues of Universal Multimedia Access. The project involves PhD topics that currently are:
Adaptive Network architecture and QoS (Dr.Ing.)
Streaming media and media conversions: Dynamic adjustment of coding rates/active networks (Dr.Ing.)
Authoring, content production for distributed, layer-structured, scaleable media services (web, TV) (Dr.Art.).
The Nordic Minister Council funds a co-operation between NTNU, Ericsson Media lab, Framkom and SINTEF Telecom and Informatics with the main goals of developing the Communication Infrastructure and streaming media and media conversion for Universal Multimedia Access. In addition there is an educational programme for student and personnel exchange between the partners. Through Midgard Media Lab we are currently establishing a Norwegian initiative in Interactive Advanced Media Technology based upon the Midgard Media Lab framework.
Please contact:
Andrew Perkis, Norwegian University of Science and Technology
Tel: +47 73 59 23 83
E-mail: andrew.perkis@tele.ntnu.no