ERCIM News No.41 - April 2000 [contents]

Ulf Lindqvist from VTT has been awarded with the Graphic Arts Developer's prize by the The Research Foundation of the Graphic Arts Industry. The prize is a recognition for his national and international research work as well as his major role as a developer of the research-industry interface. Ulf Lindqvist has been appointed research professor for media technology at VTT Information Technology from 1 June 2000.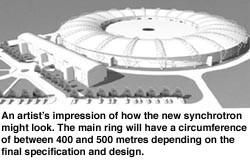 The United Kingdom is replacing its pioneering synchrotron source, the SRS at CLRC Daresbury Laboratory with a brand new machine to be operational in 2006. Funded by the Wellcome Trust and the UK and French Governments the new synchrotron will serve an academic and industrial research community of several thousand researchers across a broad range of scientific disciplines. A synchrotron is essentially an accelerator for electrons where strong magnets are used to guide the electrons around a circular path. As the electrons reach speeds close to the speed of light and have their direction changed, they emit a continuous spectrum of light of wavelengths from infrared to X-rays. This light is fed to experimental areas where researchers can select the range of wavelengths they need for a particular experiment. For example, X-rays are chosen to determine the complex structure of proteins, whilst ultraviolet light is used to study how these huge molecules fold. The SRS at CLRC Daresbury Laboratory was the World's first dedicated X-ray synchrotron source. The new machine will be a third generation instrument, specifically designed to use insertion devices.

SZTAKI established a new computer laboratory with 58 clustered processors, providing supercomputing power. The state-of-the-art, user-friendly graphical software environment (P-GRADE) for supercomputer programs have been developed by the Parallel and Distributed Systems Laboratory, headed by Péter Kacsuk. The new laboratory will serve as a training environment as well. The cluster will be available for our partners through internet and it it will provide access to other supercomputers and clusters.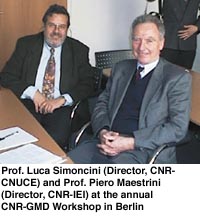 CNR-GMD Workshop - Within the context of the bilateral agreement for collaboration between CNR and GMD, a workshop was held on 9-10 March 2000 in Berlin. The aim of the annual CNR-GMD workshops has been for participants to present and review the current progress of the joint projects underway between the two institutions and to discuss plans for future activities. The research areas currently involved include digital libraries, application of information technology in the cultural heritage sector, the development of systems to support mobile communications, and the implementation of sophisticated systems for various types of traffic control. New topics proposed for cooperation between the two institutions are model-based design of context-dependent applications, complex data reasoning, and formal test cases derivation for UML statechart diagrams specifications.


SZTAKI was recognised as a Centre-of-Excellence by the European Commission, Directorate General Research, - International co-operation, after our proposal had been favourably evaluated by the Commission services with the help of independent experts. Contract negotiations are in progress. SZTAKI wishes to thank all those partner institutions and colleagues within ERCIM, who helped to achieve this prestigious title. By using ERCIM NEWS, and our updated Web services, SZTAKI will regularly inform ERCIM members of all the promotional and dissemination activities that will reflect our work and help partners to join our activities.


GMD: Worldwide the first CAVE-like installation with olfactoric display. GMD's Virtual Environment Research Division extended it's software framework for virtual environments AVANGO by an olfactoric display, which was presented at Cebit 2000 in Hannover. The virtual presentation of a theme parc designed by the Austrian artist Andre Heller in co-operation with GMD, RMH and Vertigo Systems for the city of Bochum is presented as a full sensory experience, addressing the visual, the audible the tactile senses and the sense of smell. GMD has installed and tested this olfactory display in its cave-like installation called CyberStage in Birlinghoven, near Bonn, Germany. Scent controllers are used to create a new level of immersion. The scent systems allows ambient scents as well as scents bound to objects and events. The olfactory display is not polluting the virtual reality installation. All scents are almost completly gone after 20 seconds. The system is very promissing for virtual training in hazardous environments, for product design and evaluation, for education, arts and entertainment. GMD and its partners RMH and Vertigo Systems will exploit the olfactory display immediately in event based installations, so called Cyberstage productions.