ERCIM News No.24 - January 1996
SGFI signs Swiss ERCIM Membership
by Markus Tresch
---
During a ceremony on 9th November at the bi-annual conference of the European Research Consortium for Informatics and Mathematics (ERCIM) in Budapest, the President of the Swiss Society for the Development of Informatic and its Applications (SGFI), Professor Erwin Engeler of the ETH Zurich, formally signed the contract of membership.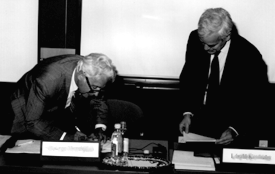 Erwin Engeler, President of SGFI sings the cooperative agreement between his organization and ERCIM. At right, the Manager of ERCIM, Jean-Michel Chassériaux
As Switzerland has no national computer science research institute, it is represented by the SGFI whose members represent departments and institutes of computer science and associated fields at numerous Swiss universities.
The Swiss Society for the Development of Informatics and its Applications (SGFI) was founded in 1989 with the purpose of providing Swiss computer scientists with access to research activities within the European Union (EU) and the United States. Since August 1995 the SGFI has an office in Zurich at the ETH and at the EPF in Lausanne.
As well becoming a member of ERCIM in 1994 the SGFI has participated since 1989 in the International Computer Science Institute (ICSI) at Berkeley, USA. On the one hand, this has made the financing of grants for outstanding young post-docs from Swiss universities possible and on the other, enabled short visits for senior lecturers and professors. Calls for applications for ICSI scholarship grants are sent out in October. The relatively high number of about 40 applications which are sent in each year, and from which 2-3 are chosen, is proof of the interest in a post-doctorate stay at the ICSI. In addition, about a dozen professors have so far taken advantage of the possibility of a senior position at the ICSI varying in length between 3 and 12 months.
Apart from these scholarships, the SGFI also helps in establishing scientific contacts between the ICSI and computer scientists in Swiss industry, thus providing early access to research results of the ICSI.
The main activity and duty of the SGFI is to establish and maintain contacts between the research in computer science done at the universities and that carried out in industrial research and development. This is done
by actively incorporating industrial research development, in particular by taking industrial research in European research proposals and research projects into account,
by coordinating international activites together with the Association of Swiss Informatic Societies (SVI),
organising seminars and workshops to harness and exploit contacts.
The SGFI has information for computer scientists especially interested in industrial research and development projects. Requests for such material should be sent to one of the addresses shown below.
---
Please contact:
Markus Tresch - SGFI
Tel: +41 1 632 72 45
E-mail: sgfi@inf.ethz.ch
or
Christine Vanoirbeek - SGFI
Tel: +41 21 693 25 75
E-mail: ercim.sgfi@di.epfl.ch
---
return to the contents page